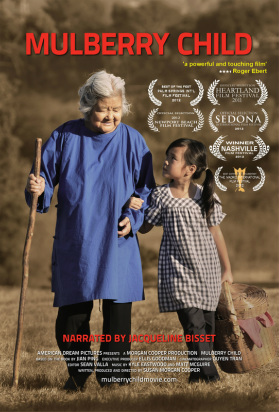 "a powerful and touching film" 3 1/2 stars -- Roger Ebert
Jian Ping was born in China in 1960 during the three-year widespread famine and came of age during the chaotic Cultural Revolution (1966-1976). She was born tiny, premature, and was often sick as a child. During her growing up years, she was left in the care of her grandmother, Nainai.
Her parents were devoted to the Communist Party, her mother, Wenxiu Gu, placing duty to Mao above her own children, and her father, Kai Hou, equally staunch in his belief. Kai survived torture at the hands of Japanese invaders when he was young, only to be tormented by his own party during the Cultural Revolution when he was labeled a traitor. Wenxiu, a school administrator, was detained and forced to write daily self-recrimination during the same period.
Jian's family were forced to move out of their living quarters in the Government Compound during the Cultural Revolution, and her older siblings were sent to the countryside for re-education by peasants. It was years before the turmoil came to an end and Mao died in 1976. For Jian, vivid memories remain of a little girl dodging a barrage of epithets and rocks as she made her way to see her father in prison. She has long held the belief that she must always remain composed, neither showing vulnerability to those who might seek to harm her nor pain to those she loves.
As China moved forward, Jian resumed her education, earning an undergraduate degree in English, then immigrating to the United States to attain two master's degrees. She married and bore a baby girl. As Jian worked hard to provide the trappings of a middle class American life for her daughter, Lisa, a sense of disconnection built between them. Her eight-year odyssey to write her memoir,
Mulberry Child
, was born of a need to reveal her past under Mao and share Chinese family roots with Lisa.
When Jian Ping and Lisa returned to China for a bittersweet family visit and the triumphant 2008 Beijing Olympics, Lisa agreed to read the manuscript. Tracing her family's history, she began to see her mother in a different light and accept her own heritage.
Click
here
to watch the trailer of
Mulberry Child
movie.
---